Training as Vehicle to Employment Project - Partners
Partners
Finland | Germany | Greece | Ireland | Latvia | Poland | Spain | Sweden
Associate Partners
Bosnia | Bulgaria | Croatia | Serbia | Slovenia
---
Information Centre for Persons with Disabilities
"Lotos" Tuzla, Bosnia (Associate Partner)
www.ic-lotos.org
The Centre is a non-profit organization which operates at the entire area of Bosnia and Herzegovina. The Centre gathers individuals with or without disability who are interested in contributing to the implementation of the mission on either a professional or volunteer basis. The purpose of The Centre is to influence the creation of democratic civil society in Bosnia and Herzegovina in which disability issues ae considered human rights issues and persons with disabilities will have no barriers trying to experience education, employment, health and social insurance, and indoor and outdoor freedom of movement.
National coordinator: Suad Zahirovic (ic.lotos@bih.net.ba)
---
Croatian Union of Physically Disabled Persons Associations
(Associate Partner)
www.hsuti.hr
National coordinator:
Monika Budimir (
savez@hsuti.hr
)
---

Centre for Independent Living, Sofia, Bulgaria (Associate Partner)
www.cil-bg.org

The mission of the Centre is to attain inclusion of people with disabilities in Bulgarian society. CIL is the leading disability advocacy organisation in Bulgaria. It was founded in 1995 and has a long and sound record in the fields of accessibility, education and personal assistance policies – the key preconditions for successful employment. Its policy oriented research, awareness raising campaigns and direct actions contributed positively to the process of social change in the country during its transition to democracy. Disability equality and social action training run by CIL helps disabled Bulgarians gain self-confidence, stand-up for their human rights and speak for themselves.
National coordinator:
Kapka Panayotova (
kapkap@mail.orbitel.bg
) is a founder of CIL and a long-standing disability leader. In her professional capacity as a macro-economist she has been involved in many advocacy-oriented research projects, as well as in different training activities to empower disabled people in Bulgaria. Her firm ideas about human rights and her outspokenness have brought many discrimination cases to light in Bulgaria, which resulted in denouncements of key legal provisions and the development of an entirely new Disability Act. Kapka is also well known in the Balkans and in Europe as an unfailing disability advocate.
---
Kynnys ry, The Threshold Association, Helsinki, Finland

www.kynnys.fi
Kynnys ry was founded in 1973 and works for the civil rights of people with disabilities. The Association acts as an independent living centre in Helsinki and in five other towns. The Association believes that both independent living ideology and proper assistance is needed to achieve one's place in the labour market.
National coordinator:
Terhi Toikkanen (
terhi.toikkanen@kynnys.fi
), a lawyer, is in charge of giving legal counseling in a project called Assistentti.info.
Also involved in the project:
Päivi Nurmi-Koikkalainen (
paivi.nurmi-koikkalainen@stakes.fi
) from Stakes (Social and Health Recearh and Development organization) is the project manager of Assintentti.info.
---
The Centre of Independent Living, Bad Kreuznach, Germany

www.zsl-bad-kreuznach.org
The aim of the Centre is to show people with disabilities, who are dependent on assistance, possibilities for a self-determined life with assistance and to support them in the field of putting through and putting into action of their personal assistance.
National coordinator:
Hubert Bernard (
h.bernard@zsl-bad-kreuznach.org
), has for several years been Managing Director of a Centre of Independent Living in Germany and Chief financial officer - financial accounting as well as dealing with projects funded by the EU-Commission. He is visually impaired.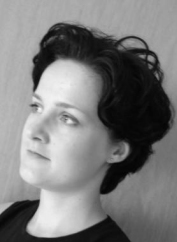 Elina Büttenbender

Also involved in the project:
Elina Büttenbender (
e.buettenbender@zsl-bad-kreuznach.org
), is a sociology student at the Johannes Gutenberg-Univerity in Mainz. She has 5 years experience in project work as well as in the area of financial accounting and HR.
---
Disability NOW, Thessaloniki and Athens, Greece
www.disabled.gr
Disability Now is a supportive non-profit organization. But mainly, it is an informational tool. It gathers, enters, classifies, publishes and distributes information, which revolves around, benefits and concerns people with disabilities. Its basic aim is to empower the Greek people with disabilities with the appropriate technical knowledge and skills to manage their needs and to reconstruct their lives.
Project coordinator:
Anna Evangelinou (
admin@disabled.gr
), born in Athens, where she lives and works. During 1999-2002 she studied dentistry at the Dental School of Athens University. After an accident in 2002 she continued her studies in the field of Marketing & Communications at the Athens University of Economics and Business. In 2003 she met the Disability NOW team and started working for the Disability NOW magazine and the electronic library of
www.disabled.gr
.
---
The Carmichael House, Center for Independent Living in Dublin, Ireland
www.dublincil.org
The Center was established in 1992 by and for people with disabilities, with the main aim of ensuring that people with disabilities achieve independent living, choice and control over their lives, and full participation in society as equal citizens. It offers an advocacy and campaigning representation role, striving to bring about a social model of service delivery, and to ensure policy decisions include input from those whose lives are actually affected. It also has an action-research role in monitoring developments in the world of Independent Living.
The organization's main objectives are:
To provide support for people with disabilities to live and work in the community.
To provide a forum for people with disabilities to explore and realize their human, civil, social, political, and economic rights.
To facilitate the raising of disability issues at the local government, state, European, and international level.
National coordinator:
Cathy McGrath (
cathymcgrath@disability-federation.ie
) graduated from the University of Liverpool, with a Bachelor of Sociology and Social Policy. Cathy works in the Disability Federation of Ireland, and is currently completing a Masters of Science in Equality Studies.
---
APEIRONS, Riga, Latvia
www.apeirons.lv
APEIRONS is an organization of people with disabilities and their friends. The organization is very actively involved in the process of social integration and works on implementing the UN guidelines in Latvia that promote equal opportunities for people with disabilities.
Areas of work: gathering and spreading information; establishment of partnership and cooperation with many local and national governments; research and monitoring the situation regarding the basic human rights of people with disabilities; andinvolvement of people with disabilities in the work of the organization. The organization is a member of The National Disability Council at the Cabinet of Ministers as well as a member of several state steering and counseling groups, e.g. the State Employment Agency, at the Ministry of Health, at the Board of the Social Integration Centre.
National coordinator:
Daina Calite (
daina@apeirons.lv
) has experience working on international teams, and with evaluation and implementation of national and Europe-wide projects. She is a lawyer and has a Master degree in Public Administration. She has done researche on children with disabilities in Latvia and coordinated the Latvian National Report on Human Rights for People with Intellectual Disabilities. She is a mother of a disabled child and has a lot of experience working with NGOs.
---
Stowarzyszenie Przyjaciol Integracji, Friends of Integration Association, Warsaw, Poland
www.integracja.org
The association is a non-governmental, non-profit organization. It has been working towards the integration of the disabled community in Poland. In previous activities the Association made use of many elements including information activities, legal advisory services, media and information campaigns, developing and preparation of publications and organization of workshops, seminars and conferences.
National coordinator:
Adam Surgal (
adam.surgal@integracja.org
) has worked at Integracja for two years in the Program Department as an European Project Specialist. His main responsibility is dealing with international relations, funding for activities from European and national sources and others, and coordinating projects like EQUAL and Leonardo da Vinci. He has experience with other European level and national level projects (as applicant and coordinator).
National coordinator:
Magda Gorczyca has worked at Integracja for about 3 years. Her current position is employment advisor, and was previously a specialist in employment matters. Her work involves coordinating professional training for disabled people and providing advice. She has published a book called "I'm actively looking for a job."
CIL Serbia, Serbia (Associate Partner)
National coordinator: Mimica Zivadinovic (cilsrbija@digit.co.yu)
---
YHD, Slovenia
(Associate Partner)
www.yhd-drustvo.si
The members of the association are handicapped people who believe in and act according to the principles of independent living.
---
Asociación Iniciativas y Estudios Sociales, AIES, Vedra, Spain
www.asoc-ies.org
The aim of the association is to promote a respectful culture under the principle of equal opportunities, as well as to favour social anti-discrimination attitudes towards disabled people. It is attempted to achieve this goal by developing integrated activities for solving problems arising from the social exclusion process.
Our aims are: To promote social anti-discrimination attitudes towards disabled people, paying special importance to disabled women and their circumstances which place them at a high risk of suffering violence. AIES promotes the independent living principles in all its activities and is a member of the Spanish Independent Living Forum.
National coordinator:
Marisol Neira (
marisol@asoc-ies.org
) is a teacher and she has been developing her activity at AIES since 2000. She has been involved in programmes linked to disabled women and violence at the national and international level. She has also carried out administrative tasks within AIES.
National coordinator:
Juan José Maraña González (
jjmarana@asoc-ies.org
) is a consultant, activist andwriter in the field of disability and Independent Living. He is Chair of AIES. He has promted and lead several European projects in the field of Teletraining and Disability. He is currently working working with the Spanish Government to set up the PER-VI project (School on Independent Living on-line). He is member of the Forum de Vida Independiente in Spain.
Gender Issues Advisor :
Marita Iglesias (
marita@asoc-ies.org
) is a member of AIES. She was very active in the disability movement until she decided to focus on women's issues, especially on violence against disabled women, for which she has become a reference person in Spain. She has
participated as a speaker in many relevant conferences on the subject of women and disability and carried out several studies on this topic ("Guide on Disabled Women and Violence," 1998). In 2000 she made an evaluation and selection of good practices carried out by women's organisations in Europe. At present, she is working with the Spanish Ministry of Employment and Social Affairs to include the gender dimension on policies and services for disabled citizens.
---
Independent Living Institute, Stockholm, Sweden
www.independentliving.org
The purpose of the Institute is to promote the opportunities of persons with disabilities to gain more personal and political power, self-determination, full participation and equality through information, training materials, consultancy and technical assistance. The Institute cooperates with other organizations that support these aims at the local, national and international level, including self-help groups in developing countries. The Institute is a reqistered foundation in Sweden. See our latest annual report.
National and transnational coordinator:
Nicoletta Zoannos (
nicoletta.zoannos@independentliving.org
) has a degree in Sociology and Economic History from Uppsala University. Previous work experience includes work as a recruiter, freelance journalist, personal assistant and administrator.
Project Consultant:
Adolf Ratzka (
adolf.ratzka@independentliving.org
), Founding Director, Independent Living Institute, a research economist by training he has done research on accessibility and de-institutionalization, and pioneered direct payments as a founder of STIL (the first assistance user cooperative in Europe). He is a strong believer in the power of pilot projects. More at
www.independentliving.org/ratzka.html