First Partnership Meeting, Stockholm, 15th – 18th February 2006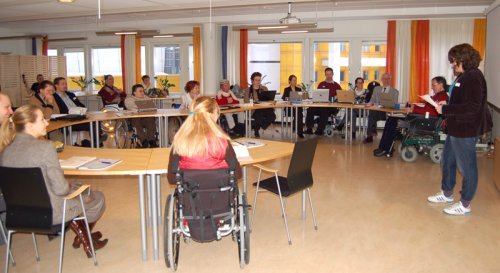 Opening of the meeting by Nicoletta Zoannos and Adolf Ratzka. Photo: Miles Goldstick.
Program
Thursday 16th of February 2006
Sound recordings of the partner presentations, 2006-02-16 (MP3 format)
9:30 Opening of the two-day seminar
Adolf Ratzka, director, Independent Living Institute, Sweden
Nicoletta Zoannos, project coordinator, Independent Living Institute, Sweden
Kalle Könkkölä, chairperson, Threshold Association, Finland
9:45 Presentation of the participants and their organizations
Day 1: The labor market situation of disabled people
Chair: Kalle Könkkölä
10.15 The labour market and disabled people: presentations by our partners
Bulgaria, Greece, Spain and Ireland
11:00 Break
11:15 Labour market policies, strategies and statistics for people with disabilities: A cross-national comparison
Presentation with time for questions and answers
Anders Bergeskog, researcher, The Swedish Riksdag Research Service
Direct link to his November 2001 report: www.ifau.se/upload/pdf/se/2001/wp01-13.pdf (PDF, 2.6 MB, 335 pp., English)
Conclusions of the report.
12.15 The labour market and disabled people: presentations by our partners
Latvia, Poland, Germany, Finland and Sweden
13.00 Lunch at the meeting venue
Discussion: Evaluation of various labor market instruments for disabled people (e.g. sheltered workshops, subsidized wages, reduced employers' social insurance fees, quota systems, affirmative action, anti-discrimination legislation) Criteria: impact on employment statistics, prejudices, career opportunities, equal opportunities,
Introduction: Nicoletta Zoannos
15:15 Discussion: The role of trainee- and internships
Key issues: inclusive vs. selective approach, when are opportunities really equal?
Introduction: Adolf Ratzka
16:00 Break
16:30 Financial and administrative information
Hubert Bernard, financial/national coordinator, CIL Bad Kreuznach, Germany
Nicoletta Zoannos
17:00 End of Day 1
19:30 Dinner at the hotel
Friday 17th of February 2006
10:00 Day 2: Methods and Tools
Chair: Kapka Panayotova, Founder of CIL Sofia
Discussion: The aim of the project in operational terms
Definitions of "state agencies", "accessible" traineeships
Introduction: Adolf Ratzka
Discussion: How to build networks for our project
national networks, our international network and its uses
Introduction: Nicoletta Zoannos

11:30 Break
12:00 Discussion: How to use the political process for our aims
Introduction
Introduction: Kalle Könkkölä
Discussion: How to use the media for our aims
Introduction: Kapka Panayotova

13:30 Lunch at the meeting venue
14:45 Discussion: Interactive log and newsletter
Introduction: Nicoletta Zoannos
15:15 Discussion: Online form for government agencies, catalogue of training opportunities
Introduction: Adolf Ratzka
15:45 Break
16:00 Exchange with members of the Stockholm disability community
Informal meeting with invited guests from STIL, other organizations and other projects

Summary of the partner countries' employment situation
Nicoletta Zoannos
Outline of project aims and methodology
Adolf Ratzka
Questions and answers, discussion
Chair: Kalle Könkkölä
18.00 Closure with buffet-style dinner at the meeting venu