Internship in Independent Living Center in Stockholm
(Daniela Komanická)
Stockholm 21st September 2021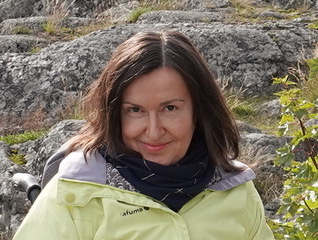 When applying for a Ph.D. study of social and cultural anthropology a few years ago, I was expected to propose my dissertation project. It was supposed to be an ethnography of a group, community, people, working place or issue and I was expected to find the subject of my research. As a personal assistance user, I realized that I have such a team working with me at home. Where should I have gone to look for something else? Moreover, my own situation is that of being the user and this perspective has been omitted in research so I had a strong desire to bring the view of personal assistance from the user's point of view to the public. I didn't want the other researchers to come and research me just to have it "objective" and valid in a way. I wanted to bring not only the situations and tasks of personal assistance work to surface but also to present processes that would probably remain invisible to any other researcher than myself.
Thus, I came with the idea of an autoethnographic project that would focus on the life of a significantly 'disabled' woman with personal assistance in the context of post-socialism. Her active participation in the 'care' process will be the center of her research in order to significantly re-evaluate the perception of the concepts of work and care. Based on intersectionality of social and cultural anthropology, gender studies and disability studies, I would focus on disability as a main analytical category.
Actually, I am not only a researcher and I couldn't have it hidden. As an activist, I have learned a lot about disability rights and the disability movement which resonated with my own life. I have felt the huge injustice happening to the 'disabled' people in Slovakia and all over the world. Actually, in 1999, when I graduated with my first university degree, I could have only managed it all thanks to the fact that I had invented voluntary personal assistance for myself. Back then I had no idea of the existence of professional assistance (professional in the sense of employment). It was no sooner than in the same year that personal assistance was introduced in Slovakia thanks to the Phare pilot project of Adolf Ratzka who came to literally save lives like mine.
Thanks to this project, Slovakia has become (and even after those more than 20 years still remains)
the only post-socialist V4 country with a personal assistance system. In spite of the fact that assistance in my country is, compared to Sweden, very limited, for people in my situation it remains the most valuable thing that Slovakia has. Honestly, it has always been my desire to meet Adolf in person and thank him for making my life possible by that act. I can say it not only from my personal point of view but also as a result of my activist work and communication with personal assistance users who keep Adolf close to their hearts. They were pleased to read his words of support last year when I contacted Adolf in hard times of a threat of assistance cancellation in Slovakia. He kindly wrote a personal open letter to our Minister of Social Affairs which I translated and published. It was a very important intervention which, as we all believe, made an impact on preserving the personal assistance service in our country.
Thus, Sweden is not only a European cradle of personal assistance but also its source model and a big support for Slovakia. And because the system of personal assistance in my country directly stems from the Swedish model, it is hardly understandable why it differs from the Swedish
one so much. For a brief explanation, even though Slovakia has incorporated personal assistance in the law and applied it in practice, it does not accept the self-determined personal assistance as an appreciated job. An assistant is, generally, not entitled to social security, a pension, holidays, or sick pay, the result of which is a specific impact on the way the service is realized, assessed, and understood. Slovakia has implemented a so-called Swedish model of personal assistance (introduced in Sweden in 1994) but it remains stuck without further development (e.g., it is still not considered employment, the assistance user's family members are allowed to assist only for certain activities for up to 4 hours per day, etc.).
I have endlessly asked questions such as: "Is it all really just a question of money or is there anything deeper and more 'sophisticated' behind it?" To get proper answers, I find it important to get to the core and explore the difference between the service provided in Sweden and in Slovakia. And I am sure that my stay in Sweden offers the appropriate ground for exploring the consequences of the Swedish-developed personal assistance service which has shown great capacity to be functional in its full original form, but which currently appears to be dysfunctional in the Slovak context. My personal experience from living in the model and my visit to Sweden as a country with a certain degree of a full-fledged model of personal assistance offers an opportunity to perceive and compare the effects of different discourses fully in this area.
Sincerely, it has always been my dream to visit Scandinavia as I am the type of person who adheres to principles of justice, democracy and the keeping of human rights at the highest possible level. Of course, I have always been aware of the fact that there is no such place in the world where things would be perfect. Still, there are places where some things are better than elsewhere. I have been living in Slovakia where the personal assistance situation has been uncertain and later on in the Czech Republic where that situation has been even worse than in my home country. That's why I have been working as a voluntary activist for more than 10 years.
At the beginning of my period as a voluntary activist, I was in close contact with a Swedish activist of Slovak origin, Ivan Björn, who witnessed my effort and desire to learn as much as possible. He and his wife (blind and a wheelchair user) decided to give me a chance and invite me to their home in Lidköping, Sweden, to see and learn how it is to live with a disability in Sweden. In 2011 I stayed with them for 2 weeks and learned a lot. The next year, in 2012, they invited me to stay there for 2 months. During that period, I had the chance to travel all over Sweden, to north of the Arctic circle and back, to meet people, learn about the "Swedish way of life", their habits, thinking, values... It felt so close that it awoke my strong desire to know more and become a part of it somehow.
In the next years I tried to get accepted to several Swedish universities for my PhD studies. I made a big effort for my project. I was even shortlisted but eventually finished second. I continued applying 11 times but there was always someone whose project fitted the plans of the department better than mine. Finally, I understood that I could try until the end of my life without any success so I applied for PhD study in Prague with hope that one day I could go to Sweden for an internship, at least. It happens now, after 10 years of my hard effort, I am an intern for the Independent Living Institute (ILI).
ILI has been my clear choice for the stay from the very beginning. As I have mentioned, it was exactly its founder, Adolf Ratzka, who brought personal assistance to Slovakia. When I asked him for an internship, he immediately agreed. I hoped to be able to move around in the institute's office, meet the people working in its core and learn as much as possible about how personal assistance worked in Sweden. The pandemic kept postponing my arrival, and it turned out that it would eventually limit even my stay in Stockholm to some extent. Nevertheless, I had a great desire to arrive, and I couldn't have been happier than I was at the moment of landing.
My aims in Stockholm are quite simple. As an ethnographer, I understand the importance of perceiving the atmosphere, common problems and pitfalls of everyday life with personal assistance. Staying close to people connected to the Swedish personal assistance system and perceiving their perception of the given reality is, therefore, one of the biggest bonuses for me. I know myself that everyday reality brings situations beyond any chance of being predicted, planned or expected. I see them as a challenge and an important part and source of my research.
I am grateful to have a chance to meet people living thanks to personal assistance, spend some time with them and have a chance to talk to them. I understand that my B2 level of Swedish can be limiting to some extent if people do not speak English. However, I can communicate somehow even if it was hard for me at the very beginning. If I have any possibility of Swedish conversations or even Swedish lessons with native speakers, I would be immensely grateful for that.
My aim is also to learn about the work of personal assistance agencies, the process of obtaining personal assistance service by its future users and the problems associated with it, the applied rules and user's policies or the details of the work of personal assistants. I am interested in the issues of Swedish activism and political struggle for so-called 'disabled' people's rights and opportunities.
I am eager to get information and answers to the questions related to my research. Mainly to map the situation of significantly 'disabled' personal assistance users and to point out the main differences between the implementation of assistance in Sweden and Slovakia. This involves
getting deeply into the understanding of the Swedish personal assistance system and being able to highlight its positives but also point out possible shortcomings.
From the point of view of autoethnography, which is the basis of my research, I find, however, equally important to immerse myself among personal assistance users and to see the differences and similarities between their and my possibilities and ways of life. In principle, I am open to anything that can provide me with information and insights, broaden my horizons and bring inspiration to my research and activist work.
It is also in my interest to use my knowledge and know-how for the benefit of ILI and to contribute to any possible improvements. I am grateful to this organization for that opportunity and I am prepared to work fully to use my stay for the best research results as well as activist aims.