Kalle Könkkölä has left us
Kalle died on September 11, 2018 at the age of 68.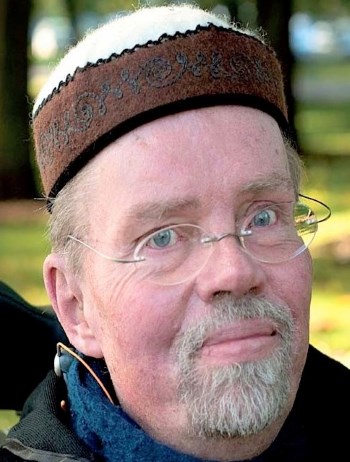 Kalle Könkkölä Foto: Adolf Ratzka
He was a legend already in his lifetime. A small guy in a powerchair using a tracheostomy and requiring 24 hours of personal assistance yet breaking down barriers everywhere he went. When he was elected to the Finnish Parliament, they had to make the building accessible for him and others to follow. As a sort of Finnish Ambassador on Disability he traveled extensively all over the world, participated in most summit meetings on disability, visited countries in the Global South as consultant and organizer on issues of disability and development. Finnair had to put in a power outlet into their business class for his ventilator. When his Green Party organized a political meeting in an inaccessible venue in a northern Finland city early in his political career, he took the train there, held an improvised press conference in a nearby restaurant, made his point about our human right to access and inclusion, and took the four hour train back to Helsinki. His point was not lost. Today, it would be embarrassing for any organizer to exclude persons who use a wheelchair for mobility. When he became a Member of Parliament, his medical doctor reclassified his disability status which meant that Kalle lost his personal assistance. Forced into a residential institution he had no say in when to get up in the morning, and, as a consequence, could not participate in important parliamentary decisions. Finally, after drawing much media attention on residential institutions and the lack of personal assistance he regained his personal assistance and personal freedom. 
Kalle had Muscular Dystrophy from birth at a time when everybody including physicians expected people with that diagnosis not to survive their thirties. Not despite his ventilator and tracheostomy but because of them he was able to have a "normal" life, to study Computer Science at the university, to start an organization of students with disabilities, Kynnys Ry (Threshold) in 1973 that was to become the first Finnish disability organization based on Human Rights and Independent Living. Kalle served 19 years on the Helsinki City Council, was co-founder of the Finnish Green Party, its first national chairperson and Member of Parliament 1983-1987, co-founder of Disabled Peoples International, DPI, its European chairperson, and later its international chairperson. Kalle started and headed the Finnish foundation Abilis in 1998 which, with the support of the Finnish Ministry for Foreign Affairs, promotes empowerment, independent living and social integration of persons with disabilities in the Global South through funding small trustworthy high-quality projects planned and implemented by disabled people themselves.
Kalle proved the doctors wrong. Not only did he survive beyond anybody's expectation, not only did he turn into a national and international giant successfully working for human rights and independent living, most recently through his work for refugees with disabilities particularly in Africa. Not only has he become the best-known person with a disability in Finland which surely must have affected the nation's attitude. His friends know that he greatly enjoyed life, loved music, the arts and poetry, good company, good conversations, good jokes and food. He and attractive red-haired Maija married  in 1976. Until her death in 2012, she was a successful and internationally influential architect  showing that accessibility in architecture is no obstacle to beautiful design. Kalle wrote and published children's books together with an illustrator friend. He loved his summer cottage in the Finnish countryside where he'd spend a whole month each summer. 
What has Kalle taught us? His life tells us that to have a disability is no excuse for not trying to make the best of your situation. That to be successful in what you are doing, it helps to enjoy your work, to enjoy working with people, to really care about people you meet. Not everybody has the clarity of thought combined with that dry Finnish humor Kalle had so much of. But it can't hurt to try. 
Adolf Ratzka