What is a Joëlette?
Read about how one parent's invention made travelling easier and more pleasant for his son, despite the latter's disability. The Handi Cap Evasion Website is at www.hce.asso.fr/eng/ (in English and French). Internet publication URL: www.independentliving.org/docs1/joelette.html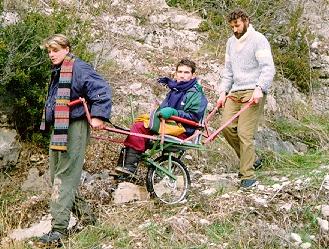 A few years ago, it became practically impossible for Nicole and Bernard, Stéphane's parents, to keep on hiking with their son.
His illness had progressed, and Stéphane had grown up: he was heavier and more fragile.
This situation led me to devise a wheelchair which could be used on any path or terrain, but which would be comfortable for the passenger, without too much pain for the two assistants handling the wheelchair.
A definition of the Joëlette by its inventor, Joël Claudel:
"Transporting people with disabilities on any terrain is now possible thanks to this one-wheeled chair, which is held by two assistants.
The Joëlette can be adapted to the disability of each person (seat, pillow, feet).
The Joëlette consists of two shafts in front and behind the seat, to drive it or to carry it if necessary. A suspension, brake, and a jack to adjust the shafts, complete the features of the Joëlette.
It was called "Joëlette" (Little Joël) because of its inventor's first name, Joël Claudel.
Read about a wonderful trip taken to Peru using the Joëlette!

A commercial version of the Joëlette exists now. For more information contact us at Handi Cap Evasion, http://www.hce.asso.fr/eng/, e-mail: hce@free.fr.