Disability Rights Defenders Newsletter October 2018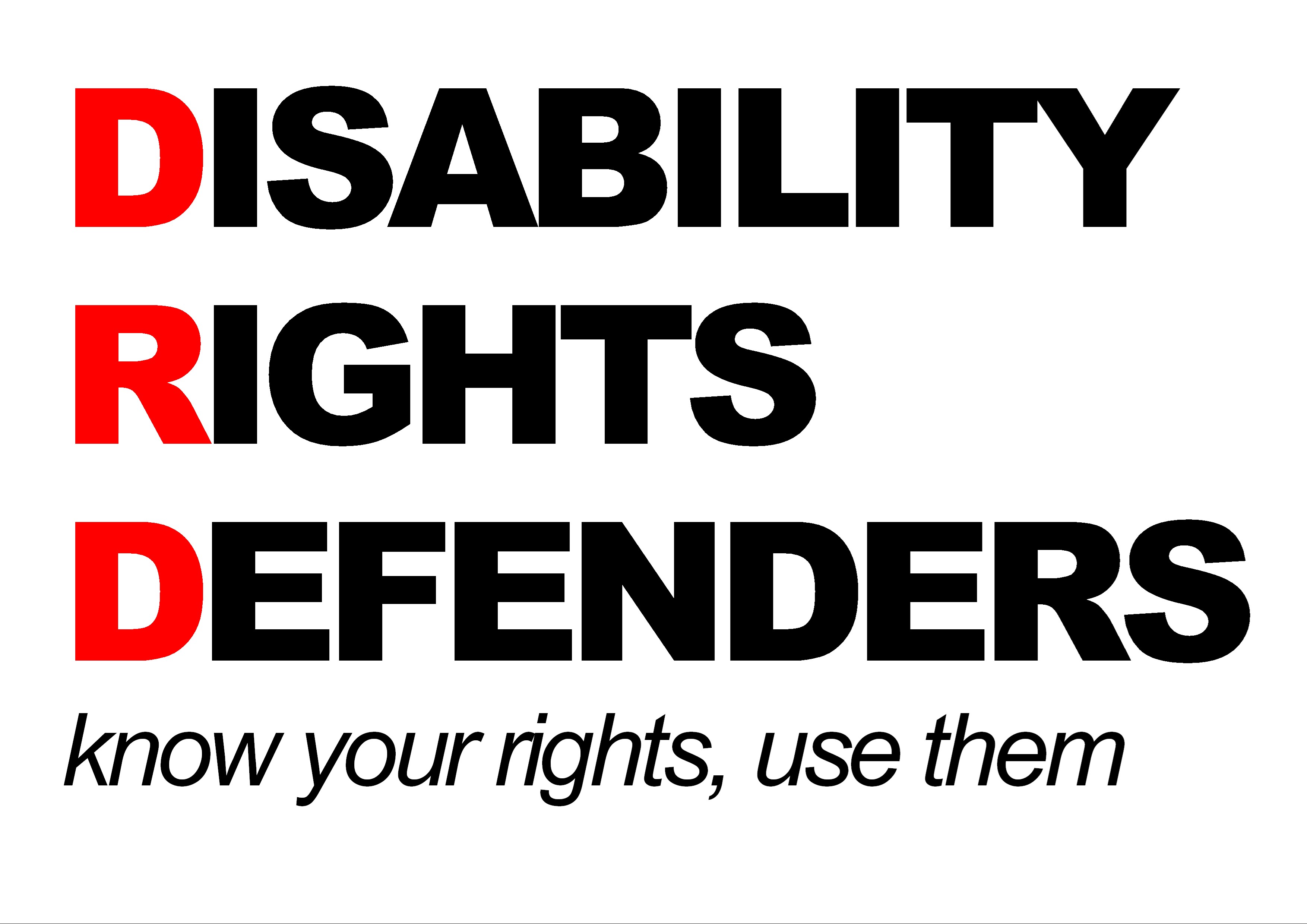 Disability Rights Defenders is a network of individuals and organizations with an interest in disability rights and disability law. The purpose of the network is to spread and deepen legal expertise about disability rights among disabled persons, disabled people's organization, lawyers and law schools. We invite people interested in disability rights to join our closed facebook-group "Disability Rights Defenders" and to share their experiences, methods and advice. Together we spread information and knowledge on how to use the law as a tool to implement and defend the rights of disabled people. We welcome contributions in form of brief descriptions of legal cases, court decisions, references to legislation, publications, reports as well as announcements of events, learning and funding opportunities. The content shared in the facebook-group is summarized in a newsletter four times a year. You can subscribe to the newsletter here.
DRD Newsletter October 2018
Dear Disability Rights Defender,
you received our Newsletter because you either actively subscribed to it (do that here) or are a member of our closed FaceBook group with the same name. Four times a year we select and summarize our discussions, questions from members, references to resources, announcements in the FaceBook and publish them in the Newsletter. In this way, we hope these "pearls" won't get lost in FB's constant stream. In addition to the Newsletter, we plan a homepage for Disability Rights Defenders where we intend to post current discussions (by linking to the FB group) and create a convenient and searchable database for people who work daily with these themes. But that are dreams for the future which will require staff/volunteers and funding. The FB group Disability Rights Defenders was launched in connection with the international conference Law as a Tool organized by the Independent Living Institute on May 31, 2018. We were 22 participants then, today we are 203 members in the FB group. We hope you will spread the word in your private and professional networks: Disability Rights Defenders work for increasing awareness about disability laws and rights, and how to implement them in court, if necessary. Our target groups are persons with disabilities and their organizations, law students and their instructors, public interest lawyers, and judges. Stay tuned and contribute to the FB group with questions, comments, court cases!
Adolf Ratzka
Content:
Kalle Könkkölä has left us
We are looking for partner organizations
Special topic: Law Clinics
Cases and court decisions
Questions from Disability Right Defenders
Announcements
Job openings
Kalle Könkkölä has left us
Kalle was part of the group that launched the Disability Rights Defenders FaceBook group on May 31, 2018. Disability Rights and Equal Opportunities everywhere were dominant recurring themes in his life. Read about this great and remarkable person here.
We are looking for partner organizations
To reach more people in countries where English is not a common language we plan to have the Newsletter in other languages. For this we need organizations of disabled people and other Human Rights organizations that have the capability of translating newsletter materials to and from their national language. We will gladly explain our plan. Who is interested in cooperating with us?
Special topic: Law Clinics
Sid Wolinsky on Disability Rights and Legal Clinics
Sid Wolinsky is the Managing Director and Co-Founder of Disability Rights Advocates, Berkeley, California. Mr. Wolinsky is a specialist in class action, strategic litigation, and rights of people with disabilities, both nationally and internationally. See our interview with Mr. Wolinsky on disability rights and law clinics.
A Practical Guide on Establishing a Start-up Law Clinic in Law School
University law clinics provide legal advice to a number of clients. The advice is primarily provided by students, under the supervision of qualified lawyers and is known as clinical legal education. Ronan Fahy & Mireille van Eechoud from the Institute for Information Law, University of Amsterdam published a practical guide on establishing a start-up law clinic in law school. This practical guide outlines the top ten things to consider when establishing a model for clinical legal education programme at a university. Download the guide here.
Cases and court decisions
Austria: Accessibility of public transportation
In June 2018, the Austrian Ministry of Transportation adapted the national regulations for tramways to make them accessible to persons with disabilities. The adaptation was preceded by years of legal action. In 2012, a blind person sued the City of Linz because newly built tramway stations did not include voice information systems.National courts, however, did not consider this to be a case of discrimination. After a number of unsuccessful lawsuits, the plaintiff turned to the United Nations CRPD Committee with the help of 'Klagsverband', an Austrian NGO representing persons who have been exposed to discrimination. The CRPD Committee's investigation resulted in clear recommendations: Austria needs to establish standards for accessible information for all users of public transport services. While the recommendations did not immediately lead to improved regulations, they did help to keep the topic on the agenda and increased the public pressure on the Ministry of Transportation. 'Klagsverband' kept demanding the implementation of the Committee's recommendations and succeeded finally. Klagsverband wrote about this case here.
Japan: Lawsuits for compensation for forced abortion and sterilization
Between 1955 to 1996, 29.48 million Japanese women were forced to undergo sterilization in combination with abortion under the former eugenics protection law (in power 1948-1996) according to official Japanese government statistics. In June 2018, several persons, a couple and a single man took the Japanese government to court on account of forced sterilizations and abortion under the former eugenics protection law. The cases filed in the Kumamoto and Sapporo district courts, respectively, call for a total of 55 million yen in compensation from the central government. With these recent lawsuits the number of persons who have filed compensation lawsuits against the central government has risen to a total of seven and may yet increase in the future according to the newspaper 'Mainichi'. The full article published by the newspaper 'Mainichi' can be found here.
Austria: Accessible post boxes
In a pilot project, the Austrian post installed about 20 new post boxes in whole Austria. The new post boxes, however, are 148cm high and therefore inaccessible for wheelchair users. After the installation of these inaccessible post boxes, two applications for a settlement process with the Austrian post were submitted. The Austrian Litigation Association of NGOs against discrimination (Klagsverband) submitted an application as a mandatory step before filing a collective claim. A second application for settlement was submitted by an individual person with the help of BIZEPS, a Center of Independent Living. In July 2018, the Austrian post agreed in a settlement to adapt, remove or replace the inaccessible post boxes until the end of the year 2018. They will not place and use this type of post boxes anymore. Furthermore, the post committed itself to have the new post boxes evaluated by persons with disabilities. Klagsverband wrote about its work with this case here.
Germany: Sign language interpretation for deaf child
The parents of a deaf child reached a court order against their local government's Social Affairs Office in Germany, which denied the child sign language interpretation by a professional interpreter in the kindergarten. The agency argued that the child already received assistance in the form of placement in an inclusive kindergarten. Furthermore, the agency pushed the parents for a Cochlear Implant for their child to avoid the costs of an interpreter. The Court decided clearly in favor of the parents and their child. According to the court order, the agency now has to fund assistance in form of a sign language interpreter for 15 hours a week. A source for this case can be found here.
Sweden: Regional authority found responsible for discrimination due to lack of accessibility of public transport operated by private company under contract.
In a two step trial, the Swedish Supreme Court first decided that regional authorities are responsible for the accessibility of their regional public transport even if the services are outsourced to and provided by private contractors (DHR vs. Region Gävleborg, Swedish Supreme Court case no. Ö 556-17). In the second part, the trial court Gävle decided that discrimination did occur in the case (DHR vs. Region Gävleborg, Gävle trial court case no. T 240-16). A bus driver of a private bus company under contract with the public transport authority in the Gävleborg region, refused to let a wheelchair user on board because of his lack of training in the use of the wheelchair ramp. The wheelchair user was represented in court by DHR, a Swedish organization of persons with physical disabilities. The region Gävleborg now has to pay 16.000 SEK (around 1.550 €) in compensation to the discriminated person. The court decision clarifies the responsibility of the public authority for the accessibility of the public transport and forces authorities to choose their service providers carefully. More information can be found in Swedish and in English.
India: Access to air transportation
India ratified the CRPD in 2007. In furtherance of effecting the Convention's provisions, the State passed the Rights of Persons with Disabilities Act 2016. This legislation prohibits discrimination on the ground of disability and makes any such act a 'punishable offense'. India's Constitution guarantees Right to Life and Personal Liberty under its Article 21; and Right to Equality under Article 14. In 2012, an Indian national with a disability intended to fly from Kolkata to Goa. After boarding, she was approached by members of the flight crew who ordered her off the plane. She later found that the Captain had insisted that she be removed due to her disability. Based on the Rights of Persons with Disabilities Act 2016, the woman filed a writ petition before the Supreme Court of the country, to get her grievance redressed, and to prevent similar incidents in the future. The Court, in its judgment dated May 12th, 2016, reiterated the right to a dignified life for persons with disabilities. The judge found the incident to be an act of discrimination on part of the airline and ordered compensation for the passenger. The Court also ordered comprehensive policy for accessible air-travel of persons with disabilities across the country to be formulated. This is a summary of a brief by Maitreya Shah, student at Gujarat National Law University, who also wrote the following article.
Questions from Disability Right Defenders 
"I have a fairly quick follow-up question to the discussions on ECHR article 8 on state obligations to provide user-led community-based services as an alternative to institutionalisation. Do we have people who may be part of a joint exploratory legal research effort on ECtHR case law? I would be glad to join efforts."
"Bonjour à tous, nous devons fournir des efforts pour la défense et la promotion des droits des personnes handicapées. En outre, pourriez-vous nous donner l'outil en français?"
"Hello all, Warm thanks to the organizers of this group. I have a chapter published on Disability Discrimination and Harassment in Ontario, Canada, where I am based. I am the newly named Chair, American Viola Society Non-Discrimination Committee. I am particularly interested in current issues around language in formulating diversity statements. If anyone has any suggestions or recommendations, I would appreciate your comments." 
"Hi everyone, As a new member of this group, I'll introduce myself. I currently work as a temporary project leader of a project run by the Norwegian Independent Living cooperative Uloba, focusing on development of a Norwegian supported decision-making model in accordance with CRPD. Inspired by the Microboard model developed by Vela Canada, Uloba has committed to develop a model which in the future might be a real alternative to the traditional substitute decision-making through guardianship. I would very much appreciate contact with and tips from anyone having relevant experience/knowledge in supported decision-making models and implementation of such models. [...]" 
"Hello! Anyone here from -Iceland, -Liechtenstein -or Norway that has any experience working with an organization that has participated in the Active Citizens Fund (EEA Grants) on the topic of Disability Rights? And/Or does anyone know of legal clinics for disability rights in one of these countries? Thank you very much"
"Is any good practice about inclusive education and the closing of special schools?"
"Hello, Is someone interested in universal design? I am also educating our society about this topic. Just again it is difficult to reach something in our biurocracy system and to do any legislation related with it. I want to hear any good example how do you work with it in your countries? How do you make legislation? Or maybe you can share examples of legislation? Thanks in advance"
You can answer the questions by contacting the person on Facebook or by answering to this Mail.
Announcements
Conference at Maastricht University: 'The UN Convention on the Rights of Persons with Disabilities in Practice - A Comparative Analysis of the Role of Courts', 25 and 26 October 2018
The conference will present a co-ordinated series of accounts of how the United Nations Convention on the Rights of Persons with Disabilities (CRPD) is being used and interpreted in domestic courts in a variety of jurisdictions. The conference will draw on the emerging field of comparative international law and will provide a critical analysis of the factors which underpin the extent and nature of the use of the CRPD by domestic courts. The conference will present some of the key findings of the book: Lisa Waddington and Anna Lawson (eds.), The UN Convention on the Rights of Persons with Disabilities in Practice: A Comparative Analysis of the Role of Courts, OUP, 2018. In addition, it will be an opportunity to engage in deeper analysis and discussion with legal practitioners (lawyers, judges and members of equality authorities which have a quasi-judicial role) regarding the way in which the CRPD is being used by courts and tribunals. Organisers: Professor Lisa Waddington and Dr. Andrea Broderick (Maastricht University), with Professor Anna Lawson (Leeds University). More information and registration can be found here.
Online Training: 'Trauma and Mental Disability Law', 10-Week Fall Training, 7-16 October 2018
The Fall Training program on Trauma and Mental Disability Law is presented by Professors Michael Perlin and Heather Ellis Cucolo. The course will consider how issues involving trauma-induced mental disabilities (PTSD as an example), are dealt with in both civil and criminal courts, and other legal areas within the community. The material will be of primary interest to legal practitioners, mental health clinicians, forensic psychologists and other forensic mental health professionals, and disability advocates. The course includes a review of the policy and legal developments of a wide range of issues involving certain marginalized groups and populations. More information can be found here.
ENIL Webinar about the role of families and allies in deinstitutionalization
Jaynie Mitchell from Scotland and Maria Madalina Turza from Romania will speak about the role of families and allies in deinstitutionalization and their respective work. When: 28 September 2018, 11 - 12.30 CET. The webinar was announced on facebook. To attend please register here.
Videos: The Evolution of Disability Rights Litigation by David Ferleger
David Ferleger, J.D. of Philadelphia, PA, graduated from the University of Pennsylvania Law School in 1972. He has a national law and consulting practice, specializing in public interest, civil rights and disability law. In nine short videos he speaks about disability rights litigation, for example "In the Supreme Court: The Constitutional Right to Community Services" or "Employment for People with Disabilities". The videos can be found here.
Call for submissions for anti-discrimination law conference in 2019 in Stockholm
The Berkeley Comparative Equality and Anti-Discrimination Law Study Group, hosted by the Department of Law, Juridicum, at Stockholm University, will hold its 2019 meeting in Stockholm, Sweden, on 17–18 June 2019. Proposals are now being sought for workshop presentations. Papers on any topic relevant to equality and anti-discrimination law are invited. The organizers propose the themes Global Sexual Harassment, Disability Rights, Twenty-five Years with the Paris Principles, and National Human Rights Institutions. More information can be found here.
The status of independent living in different countries
A member of the facebook group was asking for literature or reviews on the status of the right to independent living in his or her country. He got the following helpful answers, which we want to share with you her. Sources can be: FRA - European Union Agency for Fundamental Rights: The right to independent living of persons with disabilities, country studies. The Academic Network of European Disability Experts: DOTCOM, the Disability Online Tool of the Commission, FSZK: Implementing Deinstitutionalization in Hungary.
Job openings
Researcher/adviser rights of persons with disability' at Amnesty International
Amnesty International is hiring a 'researcher/adviser - rights of persons with disability' in the department 'Gender, Sexuality, and Identity Programme'. The full job advertisement can be found here.  
Accessibility Officer at European Disability Forum
The European Disability Forum is hiring an 'Accessibility Officer' whose job is to support the work for accessibility and freedom of movement of persons with disabilities, related to the key objectives of the European Disability Forum. The full job advertisement can be found here.
Lecturer in Law & Social Justice at University of Leeds
University of Leeds is hiring a Lecturer in Law & Social Justice: "We are seeking to appoint a high calibre individual with a strong research and teaching profile to complement our existing research strengths in disability, health, access to justice, family relations, transgender rights, legal theory, reproductive rights, and human rights." The full job advertisement can be found here.
© Disability Rights Defenders is a project of Independent Living Institute,
Storforsplan 36  10.floor, 123 47 Stockholm-Farsta, Sweden
Staff:  Selina Griesser, Adolf Ratzka
Content contributors and volunteers are most welcome!
This Newsletter is supported by the Bente Skansgårds Independent Living Fund.